Extreme Foundation Repairs from the Shotcrete Experts Near Sparks, Carson City, Reno, Sun Valley, Truckee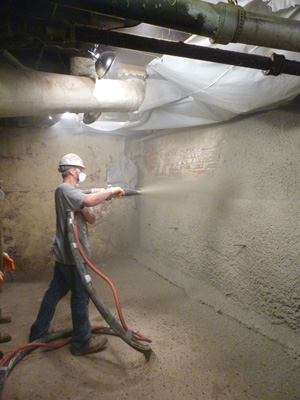 Spray-on solution. Shotcrete offers a fast, more affordable alternative to demolishing and rebuilding a damaged, deteriorating foundation.
Stabilize a failing foundation quickly and affordably with our Shotcrete Wall Restoration System
What it does:
The Shotcrete Wall Restoration System from Foundation Supportworks effectively stabilizes foundation walls that have deteriorated excessively. 
Product Features
Restore safety and property value with minimal disturbance to the home and its surroundings.
Fiber-reinforced mortar mixture is twice as strong as standard concrete.
Faster & less costly than foundation replacement.
Permanent, fully warrantied repair.
Most Shotcrete repairs can be completed in a few days or less.
Compatible with other foundation repair techniques like wall anchor systems.
People love old houses because of their charm, history and well-crafted details. Unfortunately, the foundation walls in old houses can deteriorate over time. Old foundation walls can develop cracks and bows; they can also be pushed inward by soil pressure. When a foundation starts to fail in these ways, the safety and structural integrity of the entire house is threatened.
Get a FREE Quote
We thoroughly inspect your home inside & out
Madole Construction specializes in foundation repair and offers only the highest quality solutions available. Get a Free Estimate for our Shotcrete Wall Restoration in Reno, Sun Valley, Truckee, Sparks, Carson City and nearby. Contact us today!
Avoid costly demolition with the Shotcrete System

Some contractors and restoration buffs may recommend that a failing foundation be demolished and replaced with newly constructed footings and walls. But this repair strategy can take weeks and cost many thousands of dollars. What's more, the required excavation work can damage important landscape details, while also making it difficult or impossible to use parts of the house.
There's an easier way. Using the Shotcrete System from Foundation Supportworks, it's possible to stabilize and strengthen a failing foundation without costly, disruptive demolition and reconstruction. This repair technique involves the spray application of specially formulated mortar to consolidate deteriorated masonry and reinforce failing foundation walls. Shotcrete is often used in combination with other foundation repair products like wall anchors, including our Geo-Lock™ Wall Anchor System. (see photos below). 
Shotcrete step-by-step
Shotcrete foundation repair isn't just fast and effective; it's also attractive. Once our expert installers are finished, you'll have a smooth, strong, nice-looking wall where your failing foundation used to be.
| | | |
| --- | --- | --- |
| 1.  Install Geo-Lock™ wall anchors to shore up the deteriorating foundation wall. | 2.  Apply a layer of Shotcrete to the existing wall, covering the wall plates of the wall anchors. | 3.  Add another wall plate over each protruding wall anchor bolt, bedding the new plates in the Shotcrete. |
| 4.  Apply a second layer of Shotcrete until the new wall plates are covered. | 5.  Use troweling tools to smooth and finish the Shotcrete surface. | 6.  Thoroughly clean the work area. The job is done! |
Before and After Shotcrete Restoration System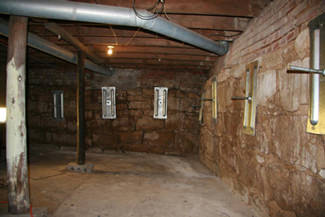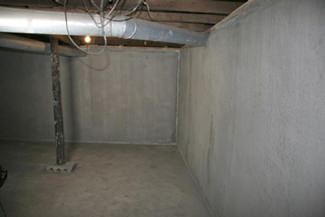 Get an inspection & Shotcrete foundation repair estimate
Even if your foundation is in extremely bad shape, foundation replacement may not be necessary. Contact the experts at Madole Construction to have your foundation inspected and to find out if our Shotcrete Wall Restoration System is right for you. Call us at 1-855-237-0288 or contact us online for an estimate!
Looking for a price? Get a no cost, no obligation free estimate.