Crawl Space Repair in Reno and Nearby
Got Water, Mold, or Nasty Odors in Your Crawl Space?
If your home has a crawl space, you'll need to take steps to manage moisture levels. A damp crawl space can lead to health and safety problems for your home. Mold and mildew, a settling foundation, sagging floors, musty odors, or poor insulation are common reasons for crawl space repair. We specialize in crawl space encapsulation, waterproofing, and foundation repair. This includes installing sump pumps, drainage systems, foundation jacks, and vapor barriers to fix water and moisture problems and prevent future mold, mildew, and rot issues.
Don't wait until your crawl space problem gets worse! Madole Construction is here to help. We're the trusted Reno, NV crawl space repair company. Contact us today to schedule a free crawl space inspection and estimate.
Before and After
Before

After

Before and after the cleanspace system is installed in the crawl space also shows the application of smart jacks to bring the home to level.

Before

After

Wrap Footings VS Full Encapsulation

Before

After

This homeowner in Sparks, NV had a crawl space that was not only bowing but was completely exposed to the rock wall foundation. A crew from Madole Construction installed a series of SmartJacks to help support the weight of the home as well as a CleanSpace Encapsulation system to permanently control the moisture levels and environment. The homeowner is now happy with their structurally safe and clean storage solution!
Do you need crawl space repair?
If you have an unfinished vented crawl space, it's always a good idea to get it inspected by a professional. If you haven't been into your crawl space in a while or if you've experienced flooding or water intrusion, it's especially important to get a crawl space inspection.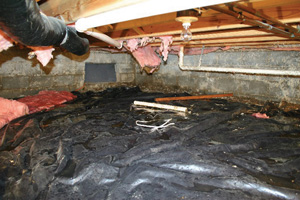 Moisture, mold, and falling insulation are problems in this crawl space, which hasn't been properly sealed.
Reasons to repair and encapsulate a crawl space:
Mold and mildew
Settling foundation
Wall cracks
Unlevel floors
Damaged insulation
Termite or rodent damage
Crawl space repair will help you avoid unnecessary repairs, create healthier living spaces, and save money on utility bills. And once you've encapsulated your crawl space with a vapor barrier, you've gained valuable storage space in your home.
Crawl Space Repair Solutions in Nevada
If you're having a problem with your crawl space, you've come to the right place. At Madole Construction, we specialize in crawl space problems of all types. Whatever your issue, we have the products and experience you need to find the best solution.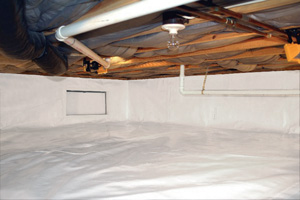 Crawl space encapsulation separates and protects the crawl space interior from outdoor conditions, keeping the space clean and dry.
CleanSpace® transforms nasty crawl spaces into dry, valuable spaces
If your crawl space is damp, dirty, or moldy, we can give you a clean, dry, useable space under your home with the CleanSpace® system. The innovative CleanSpace® products outperform other contractors' off-the-shelf crawl space repair solutions. With our waterproofing, encapsulation, moisture control, or structural repair solutions, you'll get a long-term crawl space repair and a dry crawl space year after year.
Ready to repair your crawl space? Get started by scheduling a free crawl space repair estimate today. We're the trusted crawl space repair company in Sun Valley, Truckee, Sparks, Carson City, Reno and surrounding areas in Nevada.
Looking for a price? Get a no cost, no obligation free estimate.