About The CleanSpace® Crawl Space Repair Network
The world's largest network of crawl space moisture control and structural repair experts, serving the United States, Canada, and the United Kingdom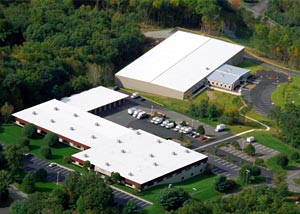 Aerial view of the Basement Systems and Cleanspace International Headquarters -- a 92,000 square foot facility located in Seymour, CT.
The CleanSpace® Crawl Space Contractor Network is a division of Basement Systems, Inc. -- the largest network of basement and crawl space contractors worldwide.
Basement Systems consists of a network of more than 300 dealerships, and was founded in 1987.
The CleanSpace® division has been in operation since 2001, and serves in nearly every part of the United States, Canada, and the United Kingdom.
The dealerships are local, independently owned and operated companies that are united under the common goal of creating drier, healthier, and more energy efficient crawl spaces. We are not a franchise!
Each CleanSpace® dealer works with the network cooperatively, sharing knowledge, experiences, and best practices with one another. We also employ a full-time Research and Development Department tasked with keeping us on the cutting edge.
Free Crawl Space Repair Quote
Get a FREE Quote!
Madole Construction is the local CleanSpace® Dealer for the Nevada area, including Truckee, Sparks, Carson City, Reno, Sun Valley, nearby Gardnerville, Incline Village, Fernley, Dayton, South Lake Tahoe, and the surrounding areas.
To sign up for a free crawl space quote, contact us by phone or e-mail today! Each quote includes an on-site inspection, professional consultation, and a written cost quote!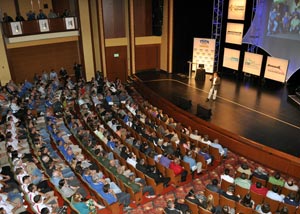 Each year, Basement Systems hosts its Annual Convention, with a turnout of more than 1500.
This week-long convention includes trainings, product unveilings, and dealer awards. It wraps up on the last day with a motivational guest speaker.
Previous speakers have included astronaut Jerry Linenger, NBA Hall-of-Famer Bill Walton, acclaimed motivational speakers Nick Vujicic, Liz Murray of Homeless to Harvard, Les Brown, Brian Tracy, Erik Wahl, and John Foley, and most recently, former United States Navy SEAL Commander and actor, author, and speaker Rorke Denver.
Contractors You Can Count On
Not just anyone can become a member of our network! We carefully hand-pick our dealerships from well-established, accomplished companies that are stable and reputable within their local area.
Our dealers are experts in the industry, specializing in crawl space repair and moisture control as a core function of their business. These are specialists who work exclusively in crawl spaces every day!
Dealer Support & Training
As members of the CleanSpace® Network, they also benefit from year-round training sessions provided at the headquarters, free of charge.
These trainings focus on every aspect of the business, including customer service, sales, installation, system maintenance, and much more.
Dealers also take our in-house Certification Testing upon the completion of each training.
Along with our full-time Research And Development Department and Training Team, the headquarters also maintains a fully staffed Dealer Support Department.
This is a team of highly qualified industry experts, who are standing by every day to provide expert advice on unique challenges that our dealers face as they work in crawl spaces all over the world.
How We Changed The Crawl Space Industry Forever
The CleanSpace® Network has pioneered a revolution in the crawl space industry! Our network has proven that crawl space ventilation leads to mold, humidity, and higher energy bills, and has launched the crawl space encapsulation industry!
Through our work, building codes have begun to change, and homes have become healthier and more energy efficient. We calculate that since 2007, our network saves homeowners more than 4.6 million dollars in natural gas, electricity, and heating oil each year!
The Better Business Bureau has recognized us multiple times for our accomplishments. Among others, Basement Systems was awarded the BBB Marketplace Ethics Award in 1999, 2003 and 2007, the BBB Consumer Education Award, in 2000, 2003, and 2004, and the Quality Award in 2000.
More Than 50 Exclusive Crawl Space Products
No matter what you need for your crawl space, we have a product that's custom-designed just for you! We've been awarded more than 30 patents for our innovative products, and have won more than 40 quality and innovation awards!
These products have been successfully used to meet the needs of homeowners with crawl spaces in hundreds of thousands of homes worldwide, including repairs and upgrades for crawl spaces.
Our crawl space products serve the following needs for homeowners:
Free Crawl Space Repair & Upgrade Estimates
Each member of the CleanSpace® Network provides homeowners in their service area with free written quotes for all repairs and upgrades for their crawl space.
Each quote includes a professional, on-site inspection and measurement of your crawl space. We'll answer any questions you have, and map out your crawl space using our innovative crawl space software program. Your specialist will take you shopping through our products, making recommendations on which options would work best for your scenario.
As an added courtesy, your local dealer will also mail along a full-color copy of our crawl space book: Crawl Space Science. This provides you with a powerful research tool -- one that is filled with photos and information about crawl spaces, as well as details about our products and services.
Don't wait to create a healthier, more valuable home! Contact us today!
Looking for a price? Get a no cost, no obligation free estimate.